Note from Save Our Shoestring: We couldn't agree more with Zenas Crocker of the Barnstable Clean Water Coalition, who says the DEP's proposed changes should target properties close to waterways first. "You treat first those areas that are closest to the water because these are the ones that are contributing the most load most quickly," he said. "We need to help the water bodies quickly. We don't have a lot of time."
Make your voice heard: Register for today's [12/1/22 at 1:00pm] remote public hearing on the new regulations. Remote Only,

Thousands of Cape Cod homeowners may need to replace septic systems under new state regulations
November 28, 2022. By Barbara Moran.
A proposed change in state regulations could require tens of thousands of Massachusetts residents to replace or upgrade their septic systems in the next five years, unless local water districts come up with plans to mitigate nitrogen pollution.
The new regulations would at first affect only Cape Cod, where decades of nitrogen pollution — primarily from septic systems — has led to severely diminished water quality in bays and estuaries. But the regulations will eventually expand to include other affected areas in Martha's Vineyard, Nantucket and the south coast of Massachusetts.rofit news organization.
"This is the biggest regulatory change I've seen in my 33-year career," said Barnstable Town Manager Mark Ells. "This is enormous."
In most Cape Cod households, wastewater from toilets, dishwashers, sinks and showers runs through septic systems that release liquid into nearby soil, rather than centralized water treatment plants.
Because the soil on Cape Cod is so sandy and porous, dissolved nutrients — like nitrogen from urine — make their way to nearby waterways. Excess nitrogen prompts overgrowth of algae and invasive plants that smother native ecosystems, resulting in murky, foul-smelling water.
Marybeth Chubb, the wastewater section chief at the Massachusetts Department of Environmental Protection (MassDEP), called the impacts on water quality "devastating."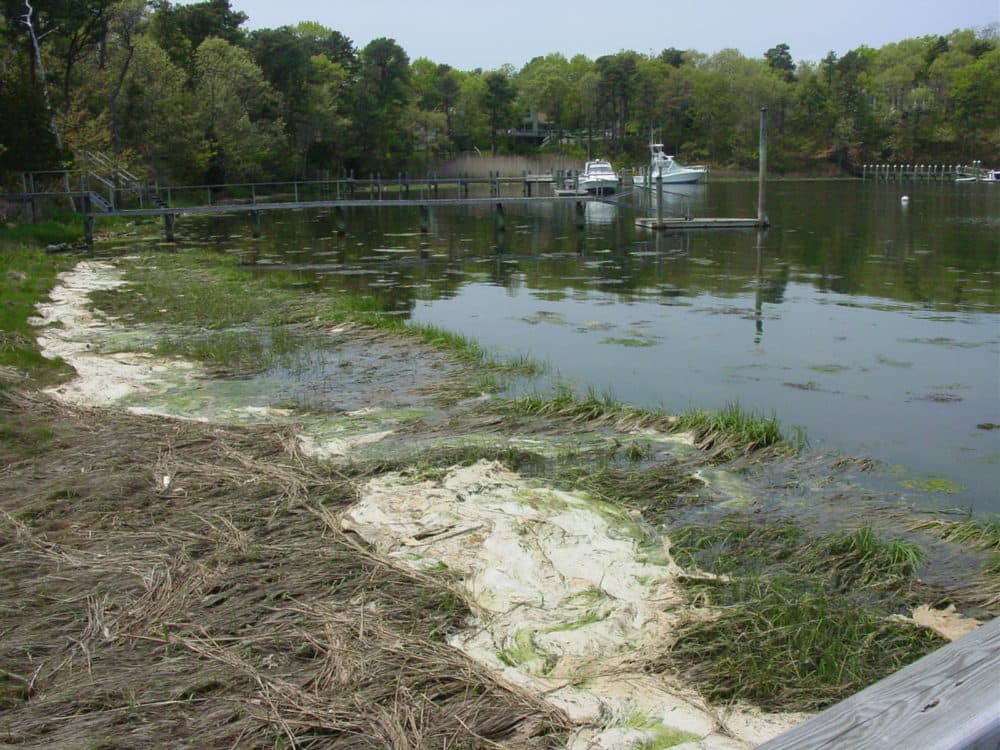 The state is proposing two amendments to the "Title 5" regulations that govern the use of septic systems in the state. The first amendment would create "Nitrogen Sensitive Areas" where nitrogen pollution from septic systems is known to damage coastal waters. The second amendment would require that property owners within these areas replace or upgrade their septic systems within five years, unless their water district presents a community-wide watershed permit plan to combat nitrogen pollution.
Replacing a septic system for a single-family home with an updated, nitrogen-filtering system could cost up to $35,000, said Zenas Crocker, executive director of the nonprofit Barnstable Clean Water Coalition. Upgrading an existing system to add additional filtration for nitrogen costs roughly $30,000.
Replacing septic systems with municipal sewers is also expensive — Barnstable's plan to expand its sewer system to about 12,000 additional properties is estimated to cost $1.4 billion.
"People don't want to spend money. But they're going to have to pay one way or the other," said Crocker. "People come here because they want to recreate on Cape Cod, and if the water is so polluted that you can't go swimming, you can't enjoy it, you can't fish, who's going to come here?"
Crocker says his organization supports the amendments, though he'd like to see them target properties close to waterways first."You treat first those areas that are closest to the water because these are the ones that are contributing the most load most quickly," he said. "We need to help the water bodies quickly. We don't have a lot of time.
Another challenge: there aren't enough new nitrogen-filtering septic systems — or teams to install them — readily available to replace all the targeted septic systems on Cape Cod.
"Those are legitimate concerns," said MassDEP's Marybeth Chubb. She noted that communities that choose to create watershed protection plans would have 20 years to implement them, which would "hopefully lessen those impacts" on homeowners.
The proposed amendments were prompted by legal action from the Conservation Law Foundation (CLF), which has filed multiple lawsuits in recent years to reduce nitrogen pollution on Cape Cod. CLF has agreed to stay a lawsuit against the state as the new regulations roll out.
CLF staff attorney Maggie Nivison said the new regulations should prod water districts to address nitrogen pollution at the community level.
"Rather than leaving it to individual homeowners to upgrade their septic systems, communities should look at what's happening in their watershed," said Nivison. "That is going to be the least heavy lift for homeowners, and it should be the most efficient way to get those waters as clean as possible as soon as possible."
The state will conduct three public hearings on the new regulations in November and December, with the first scheduled for Nov. 30 in Lakeville. Public comments will be accepted until December 16, and the state is expected to issue final regulations in early 2023.